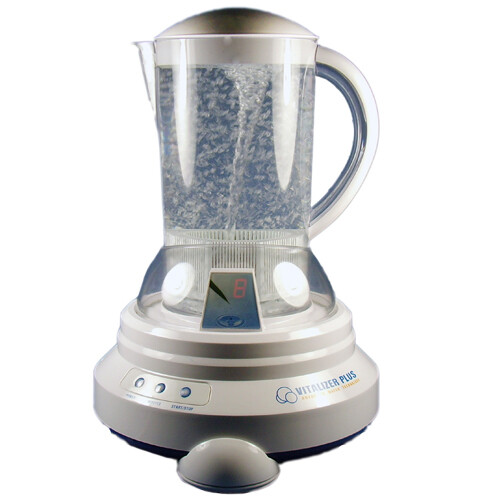 Vitalizer Plus, with FREE $89 Exclusive Energy Enhancement Package & 2 $79 Mineral Basket
SKU 00006
Product Details
Purchase here through our affiliate Link
Product Description
Latest Version. With enhanced durability and controls.
The most affordable and supportive water for cell hydration and harmonic function. No other appliance under any name can match this result.
Real Benefits you will find:
Super Oxygenates, clusters, mineralizes and energizes pure water
Therapeutic energy and healing properties
Advanced cell hydration and harmonic function
Enhanced organ functionality through water absorption
100% Satisfaction Guaranteed - 6 Month Money Back Guarantee
Do These Benefits Interest You?
With our exclusive enhancement package you get Powerful, Practical, Safe and Effective Results! Much more SUPPORTIVE COHERENT ENERGY, allowing living cells to develop self PROTECTION! The added personal Harmonic eCrystal Cell Support has already become HUGELY successful! Helps cells restore their natural resistance to environmental chaos without fatigue. It promotes the strengthening of the cells natural ability to resist chaos. Works well with the EP2 Stress Pendant for personal protection.
Superior oxygenation and hydration of the cellular environment. Enhanced endurance. Electron rich free radical neutralizaton. Supporting and promoting the natural alkalizing of the body can lead to improved performance and stamina. Unique source of ENERGY, ENERGY, ENERGY!!! More natural supportive hydration and energy than ionizers costing $4000 or more, without the potential negative effects of other technologies.
Erases negative memory from chemicals, pesticides, heavy metals, and other potentially destructive frequencies.
Revitalized hexagonal structured water can erase this negative imprinting found in most waters, filtered or otherwise. Our technology can reduce the de-energizing effect of the endless flood of "low energy", or "negative information," that inundates the body from water now typically consumed on a daily basis. Revitalized water provides the body with a natural resource of positive supportive information, allowing the body to prioritize its health restoration efforts.
Our Exclusive Enhancement Package which includes the Ewater.com energy enhancing eCrystal and an additional mineral basket worth up to $168 combined, comes at no additional cost and is not available from any other source.
Save Money!
Make UNLIMITED high energy water, for about the cost of one case of certain Therapeutic Energy waters or concentrates. WHY SPEND ALL THAT MONEY ON BOTTLED WATERS?
The VITALIZER PLUS hexagonal water appliance now super oxygenates, micro clusters, mineralizes (slightly alkaline), and energizes any pure water IN MINUTES! Therapeutic higher energy water can be obtained in less than an hour.
Save this product for later